Viral Hepatitis Mapping Project
The Viral Hepatitis Mapping Project aims to facilitate a comprehensive understanding of chronic hepatitis B (CHB) and chronic hepatitis C (CHC) in Australia by assessing variation in prevalence and care uptake according to geographic region.
Localised priority-setting is a key objective of recent healthcare reform in Australia, and enhancing access to treatment and care is a priority action in both the National Hepatitis B Strategy 2018-22  and the National Hepatitis C Strategy 2018-22 .
Future versions of the report will assess progress towards new targets contained in the upcoming national viral hepatitis strategies, which are due for release in 2023. Identifying areas where prevalence is high and/or care or treatment uptake is low provides the opportunity to engage with affected communities, prioritise interventions and improve local service delivery in areas of greatest need.
The Viral Hepatitis Mapping Project's National Report and interactive Online Portal will be updated annually, to reflect both the shifting epidemiology of CHB and CHC in Australia and evaluate the impact of public health and clinical service interventions on increasing access to diagnosis and treatment at a population level over time.
The Project is a joint initiative of the WHO Collaborating Centre for Viral Hepatitis Epidemiology, The Doherty Institute and ASHM, funded by the Australian Government Department of Health.
For general enquiries about the Viral Hepatitis Mapping Project contact Isabelle Purcell at Isabelle.Purcell@ashm.org.au or 0400 431 177. To discuss specific data or request additional information for your area, contact Jennifer MacLachlan at jennifer.maclachlan@mh.org.au.
This report contains estimates of chronic hepatitis B prevalence, treatment and management at a state and territory, Primary Health Network (PHN), and Statistical Area 3 level. This report also includes data regarding the cultural and linguistic diversity of those affected by chronic hepatitis B, including by region. Key indicators included in this report can be further explored using the Online Portal, which provides interactive visualisations of these variations.
This report forms the baseline for assessing Australia's progress towards meeting the targets set out in the Third National Hepatitis B Strategy and Fifth National Hepatitis C Strategy, which cover the period 2018-2022 and set out clear indicators for progress towards eliminating the impact of viral hepatitis.
Download the Viral Hepatitis Mapping Project: National Report, Hepatitis B 2021 
Download the Third National Hepatitis B Strategy 
What's new in this report?
Updated national and state/territory estimates of hepatitis B prevalence, based on revised modelling.
Updated locally specific estimates of hepatitis B prevalence, based on newly released information from the 2021 Census and local and overseas prevalence data.
Further detail on cultural and linguistic diversity among people living with hepatitis B at the local level.
Updated projections assessing which PHNs are on track to meet strategic targets, including updated migration projections.
Further assessment of trends in testing, diagnosis, care and treatment through 2021, reflecting the continued impact of COVID-19.
Key points:
An estimated 200,385 people were living with chronic hepatitis B (CHB) in Australia in 2021, representing 0.78% of the total population.

Of those, 72.5% have ever been diagnosed

 

Treatment uptake for CHB in 2021 was 12.7%, 

 

Engagement in care (treatment or viral load test monitoring) in 2021 was 26.0%.
View the following complementary resources here:
The Viral Hepatitis Mapping Project: National Report 2021, Hepatitis C will be published separately. You can view the most recent hepatitis C data in the Viral Hepatitis Mapping Project: National Report 2020 by clicking this link here.
Requests for specific and further data to assist with planning and sector development are welcomed and should be sent to Jennifer MacLachlan at jennifer.maclachlan@mh.org.au.
Previous examples include the NSW Hepatitis B estimates report, facilitating a comprehensive understanding of hepatitis B in NSW, assessing geographical variation in prevalence, management, treatment, and vaccination coverage across NSW Local Health Districts. This can be viewed here.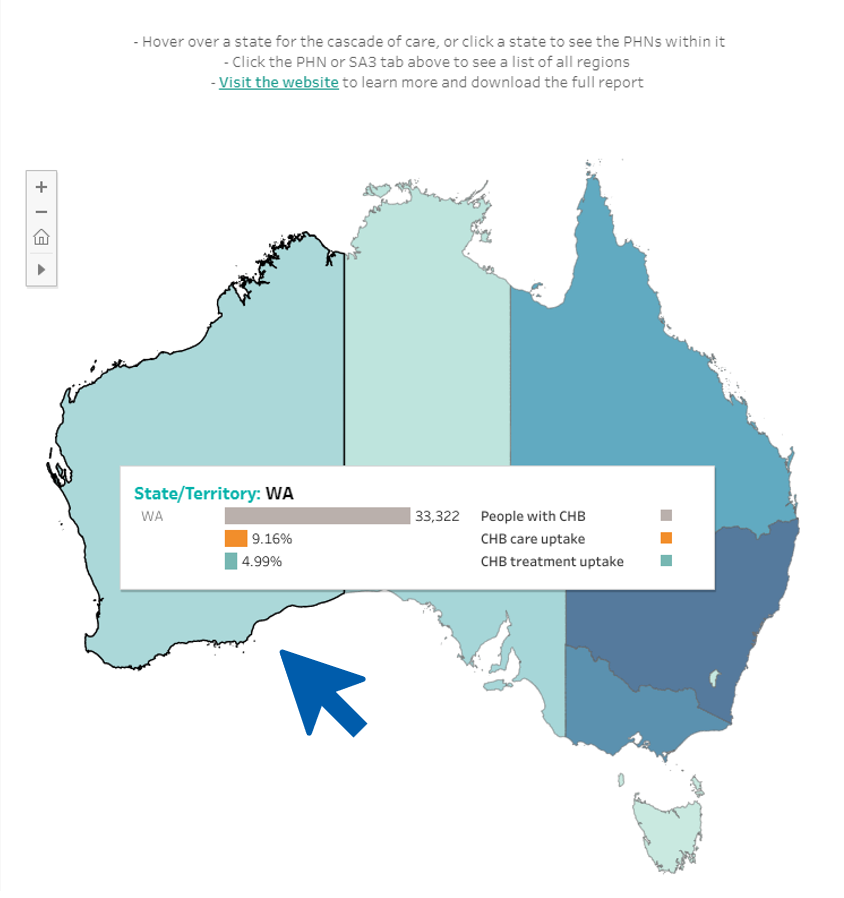 The Mapping Project's Online Portal is an interactive tool which allows stakeholders to explore the data presented in the latest National Report on a deeper level, and directly compare regions of interest.
Discover our events calendar, featuring impactful health conferences and educational gatherings. Join health professionals, researchers, and community organisations in HIV, BBV, sexual health and other health fields. Explore our calendar to find engaging opportunities tailored to your interests and professional development.