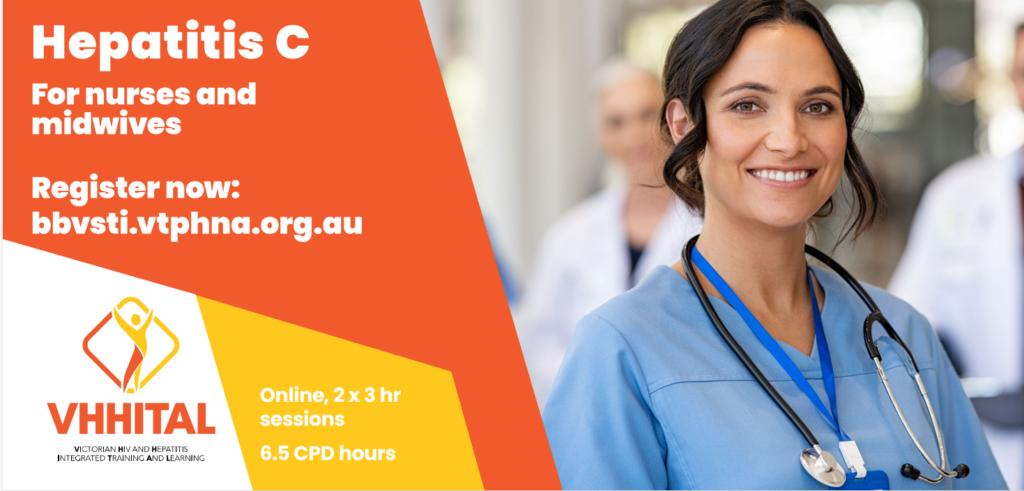 The aim of this online training course is to upskill and support nurses to assist clients who may be at risk of or living with Hep C access appropriate treatment and care.
Hosted by the Victorian HIV and Hepatitis Integrated Training and Learning program, this free facilitated online training course provides nurses with the knowledge and confidence to increase screening and management of hepatitis C in primary care settings.
Online Training Session 1: Wednesday 15 November, 5:00-8:00pm AEDT
Online Training Session 2: Monday 20 November, 5:00-8:00pm AEDT
Please note that you will need to attend both of the live Zoom sessions in order to receive a certificate of completion. You will receive two calendar invitations to the online sessions separately from Zoom, following your registration to this course.
Target audience:
Nurses and Midwives working in sexual health services, public and private medical clinics, refugee and migrant services, correctional facilities, Aboriginal and Torres Strait Islander health services, drug and alcohol services, mental health services, and youth services, in Victoria.
Course components:
Part 1: Pre-course activities
Participants should complete the required pre-course activities prior to attending the facilitated training. These should take approximately 1.5 hours to complete the required content.
Part 2: Facilitated training
The facilitated component will be comprised of a 2-separate day session consisting of presentations, quizzes, and group discussions. These sessions are 6 hours in duration, including breaks.
Part 3: Reinforcing activity
A case study is to be completed following the course, submitted via ASHM's Learning Management System (LMS). This should take approximately 30 mins to complete.
Accreditation
This activity, including pre-course work, is equivalent to 7.5 CPD hours in total.
Certificates will be issued with the relevant CPD hours according to the components completed.
This course is endorsed by ACN according to our Continuing Professional Development (CPD) Endorsed Course Standards.
It has been allocated 6.5 CPD hours according to the Nursing and Midwifery Board of Australia –Continuing Professional Development Standard.
This course is an Australian College of Midwives CPD Endorsed Activity.
Learning outcomes:
Describe risk factors for HCV, enabling discussions with patients around prevention
Discuss HCV serology to identify opportunities for screening, testing and linkage-to-care
Explain the nurse's role in providing culturally appropriate care, free from stigma and discrimination, to people from priority populations
Explain the nurse's role in the management of chronic HCV, advanced liver disease and hepatocellular carcinoma
Outline strategies for supporting patients with medication adherence
Learning objectives align with the AHA Practice Standards for the Hepatology Nurse (2015) and the AHA Consensus based Nursing Guidelines (2019). The course is also endorsed by the Australian Liver Association (ALA).